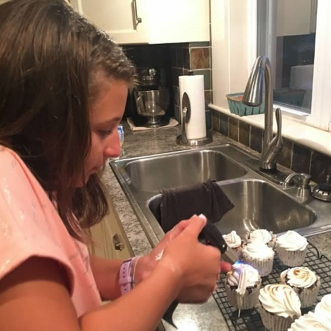 "I bake for No Kid Hungry because it is important for me to set an example for my students that I teach in school as well as my own children about being involved and active members of the community. We are so fortunate and the food insecurity we face here and globally is something we can fight, one little bit at a time, together."- Katie Ciemiewicz
Katie Ciemiewicz is a teacher and hosted a bake sale for No Kid Hungry through the community service club at her school. Due to nutrition policies at the school for students Katie ended up selling her baked goods to the teachers and staff. Katie planned her bake sale around Halloween so she could keep her bake sale within a theme.
Katie and her helpers, Madelyn and Connor made Oreo Rice Krispie treats, witch hat cookies, pumpkin spice muffins, black cocoa brownies, and little finger foods that were all individually packaged to hand out easily.
To Katie's surprise, they doubled the funds they raised – even with their bake sale being virtual. Katie had the senior members of her club help with the delivery to the individual schools, classrooms and teachers by putting together the orders based off the order sheets they collected.
Katie's advice: "Since we did it a little differently given my setting, and particularly during the pandemic, it was important to be both organized and flexible, both in organization of the sale and goods and the making of them—sometimes you just need to go with the flow, take a deep breath and recognize every little bit will help!"